Hi Friends,
I hope your new year is off to a positive and promising start. I have been busy planning posts, making design appointments and looking forward to new opportunities. It feels so good to finally be able to sit down and get this post rolling, I don't know about you but this January seems to be flying right on by! With the beginning of a new year comes words for the year, goals and new trends so I want to cover these topics in today's post. I really wanted to touch base and give you some motivation and/or inspiration to pick a word, start a project or just provide you with a break while staring blankly at your screen while counting down the hours until the work day is over.
Resolutions do not work for me at all so every year I choose one word that stays top of mind. It's just easier for me to focus on and see it come to fruition though different experiences. Last year I chose the word "faith", and boy was that tested again and again (I'm sure you don't want me to go into detail on this right now). The truth is that word will always be in my heart no matter what I do. This year, I thought about it as January first approached and what stuck out the most to me was "relationship". I want to cherish the ones I have and begin to build and develop new ones. This is corny and not design related I know but I hope it encourages you to pick a word and see how many times this year it pushes or pulls you in a direction that molds your character.
Goals. Well plain and simple, I want to work with you! Whether you are reading this in an email or just came across it randomly, I want to help you. It might be one room, a whole house or even staging to sell. To me any of these opportunities would be truly amazing because I love interiors and I love how a fresh interior can change ones perspective just the way a brand spanking new outfit can make you feel like a million bucks! If you're ready to get started discussing, exploring, or implementing design plans – get in touch!
Now onto the fun stuff! Design trends for 2017 are all over social media and I'm loving the articles coming up in my feed. I want to touch on five for today that you will likely see or hear about throughout the next 12 months.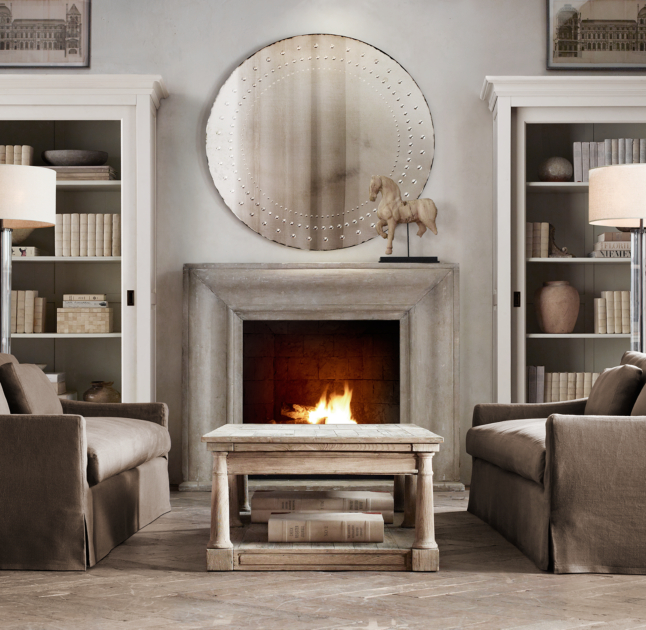 Wood
Wood has been very popular in the past and isn't going anywhere anytime soon. We've seen wooden coffee tables, dining tables, floating shelves, drift wood accessories, you name it – its out there. What I can see a shift in is, its form and weight. I believe we will see it in more refined applications and interesting species. It will also be paired with mismatched materials such as iron and mixed metals. For example, shabby chic is still around and people really gravitate toward it but I think you will see a transition to more sophisticated pieces that have been finished professionally and last the test of time.
2. Navy
Navy is still going very strong. Paint, textiles, and cabinets is where I continue to see the oh so classic navy. Navy will always be a clean classic go to colour because of its versatility and sophistication. It has this amazing ability to stand out front and demand attention or lay low and have a natural grounding effect. There is no shortage of new kitchen cabinets being smothered in this amazing colour.
3. Green Sofas
With the Pantone colour of the year being Greenery it is no surprise that we are starting to see more and more green being infused into our interiors. Even if that wasn't there selected color I think we would still see a lot of actual greenery being introduced into our everyday living spaces. I know for me, I enjoy a live plant in every room of the house if possible. I don't create a jungle or anything but I like to think I am adding something positive to each space thats natural, living and improves air quality. I digress. Green sofas are popping up in a vast majority of styles, hues and living spaces. They can be a great conversation starter and focal point in a flat room. Move over blue sofa, the emerald beauty is making his entrance!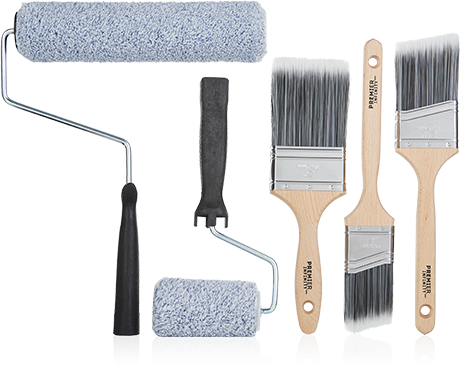 4. Paint
All white interiors are still around and will always hold a very happy place in my heart. You either love them or hate them. I think 2017 will be a year where more colour and pattern will be introduced. We will see paint go from one side of the spectrum to the other. We will witness confident saturated spaces, moody deep walls and earthy calculated choices. I feel like anything will go this year as long as all the elements in the space work harmoniously. The major players in the paint space have always been my go-to but in the coming weeks you will see a big unveiling of the newest line of paint from Canadian Tire. The highly recognized Canadian retailer is stepping up their game! Their newest line of paint, Premier, will be introduced to the design community this weekend at IDS2017 and I've heard a lot of positive feedback so far. I will be testing it out in the near future myself! Stay tuned for that.
5. Lighting
Form and function. You can look through any magazine or scroll through any design account and see that lighting is one of the most important elements in good design and one thing you always notice. Well, at least I do. I have a thing for light fixtures and rugs, always have and always will. As my five year old would say "they are the rooms earrings", I can't make this stuff up. She's right. They may appear to be that sparkly final touch just like a beautiful set of earrings but let me assure you those "earrings" play a bigger role then you may imagine. Lighting creates an ambiance, it serves you well while you complete tasks and it adds accents and interest you don't expect. This year we will see interesting forms, and a new dynamic between intermingling styles.
I am heading to the Interior Design Show 2017 this Sunday January 22nd and I'm excited to tell you I will be hanging out with the Canadian Tire team while they promote the new Premier Infinity paint line. I also announced an amazing giveaway on Instagram to win a pair of tickets to this weekends event. I would love for you to hop on over and enter. Find the giveaway details here.
As always thank you so much for subscribing and coming along on this awesome design journey with me. I hope I can inspire and get you excited about your style and your space.
Cheers,
Ashley